News & Events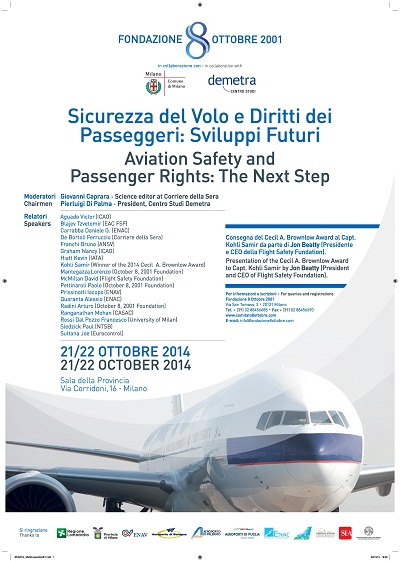 Sala della Provincia di Milano - Via Corridoni 16, Milano - 28/08/2014
International Convention: AVIATION SAFETY AND PASSENGERS RIGHTS: THE NEXT STEP
Fondazione 8 Ottobre 2001 - Per non dimenticare, in cooperation with the City of Milan and DEMETRA Centro studi of Rome, organize an international conference on Flight Safety and Assistance for Victims and Their Families after an Air Crash.
The attention with which ICAO addressed this topic during the 38th General Assembly and, unfortunately, the disappearance of Flight MH370 clearly show the need for further discussion and debate on this issue. Furthermore that accident added more questions which must be addressed, such as the aircraft tracking methods, FDR and CVR location and recovery, the post crash Emergency procedures and assistance to victims and their families.
The conference was planned in response to the need for further discussion and information, starting with an updated presentation of the main international and national laws and regulations. It wants to help identify possible concrete actions in an attempt to formulate new strategies to continuously improve flight safety and increase passengers protection.
FREE ADMISSION. THE CONFERENCE IS OPENED TO ANYONE WHO IS INTERESTED IN AVIATION SAFETY.
The complete programme of the Conference is downloadable here below. Please, fell free to share it with your friends and colleagues!
For queries:
Fondazione 8 ottobre 2001 - Per non dimenticare
Via San Tomaso, 3 20121 Milano
Tel. (+ 39) 02 88456685 Fax (+ 39) 02 88456690
E-mail: info@fondazione8ottobre.com
Download