Our 22nd anniversary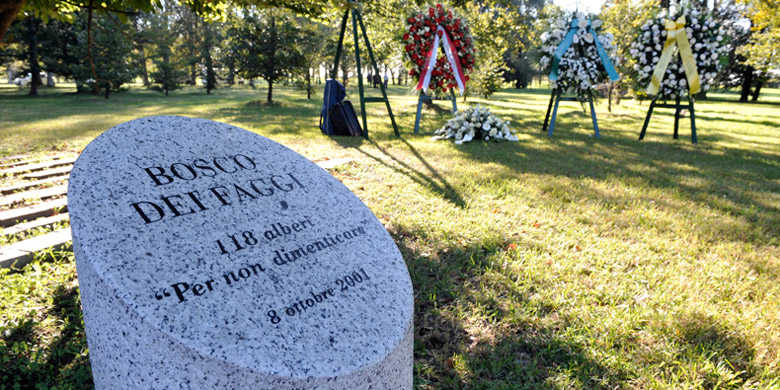 Dearest friends,
This year marks our 22nd anniversary.
Many years have passed since that distant October 8, 2001, but we are always here to remember.
Starting this year, however, there will be a few organizational changes to the ceremonies: we will have our own private moments together with institutional ones that will never cease on this significant and sorrowful day in the history of Milan and Italy.
Great emphasis will be given to the commemoration for the second anniversary of the National "Per Non Dimenticare" Day, desired by all of us.
There will be commemorative moments in schools, many offices and institutions, airports, etc.
I invite each of you to ensure that this Day is given as much relevance as possible in every place.
The program for Sunday, October 8, will be as follows:
It will begin with a moment of remembrance and commemoration at 3:30 PM in Sala Alessi of Palazzo Marino on Piazza della Scala for Remembrance Day, with the presence of government authorities.
Due to limited room capacity, please send us the names of the family members who would like to attend the gathering (no more than 3 or 4 per family).
Then we will walk a short distance to the nearby Santa Maria della Passione Church, which is on the same square as the Conservatory, at via Conservatorio 12.
Here, at 5:00 PM, will be our private mass, where we will gather in prayer.
Musical accompaniments will be entrusted, as always, to the I Giovani Choir of Milan that has been with us for years.
There are no seating limitations in church.
From the Church, we will enter the Conservatory to attend the always beautiful concert offered to us that will begin at 6:30 PM. The Concert is the other institutional moment of the day, together with the remembrance ceremony in Sala Alessi.
Lyrical Gala
Music of C. Gounod, F. Cilea, G. Puccini, G. Donizetti,
G. Verdi, W.A. Mozart, R. Leoncavallo
Singers from Milan Conservatory
On the pianoMaestro Giulio Zappa
We concentrated all the events of the day in the afternoon, also for more convenient travel arrangements.
For this reason, this year's visit to the Bosco dei Faggi and the moment of reflection will be private.
Each person can go there according to their schedule and at any time they choose.
There will be no shortage of flowers on each of our loved ones' markers or lack of wreaths and flower baskets, and the lawn and our beech tree grove will be neat and tidy.
We will certainly meet there in small groups.
For concert tickets at the Conservatory, there are no major limitations. Please let us know how many seats you would like by the date and at the contact numbers indicated below. If some friends want to join you at the last moment, if there is still availability they will be welcome, even if we cannot guarantee seats near you. In fact, our concert will no longer be closed and private, but open to the whole city of Milan.
We are part of the "Milano è memoria" program of the Municipality and Conservatory, and it is a good thing that the Milanese population can participate in this Commemoration. Finally, an evening open to everyone!
The program will be published on the website as soon as we receive it.
However, let us know how many tickets you would like so we can reserve the best seats for you.
We want to warmly thank Mayor Giuseppe Sala, the entire Milan City Council and the Conservatory Management who have offered us this great opportunity.
You can collect your tickets on the evening of the concert in the Conservatory Hall starting at 6:00 PM.
We await your RSVP, confirming your participation in the ceremonies: just call or send a message by September 25 to the numbers +39 339 308 2849 or +39 380 138 1577 (Giovanna).
Much love to all,
Adele
12/09/2023